OperationSTART: Three Years of Impact
It's OperationSTART's third anniversary! Happy birthday to us! Read more about our three years of impact.
It's hard to believe that it's been three years since we launched OperationSTART. In that time, we've had the incredible opportunity to work with some of the most influential nonprofits, inspiring students, parents, and schools.
We started OperationSTART with a simple mission: to bridge the opportunity divide in San Francisco. In 2020, we saw that the implementation of technology would be an excellent fit for this, which is why we created operationstart.org – the platform it is today.
We've made significant progress in the past three years. We have 121 approved organizations, 278 approved opportunities (ever), and over 500 verified users on our platform. Some notable organizations are Mission Bit, College Track, BAVC, and CHALK, a project of Bay Area Community Resources (BACR). More recent organizations that have joined our platform include Rice University Precollege Program and Georgetown University Pre-College Online Program!
But we know that there is still much work to be done. Hundreds of youth in San Francisco still lack access to enrichment opportunities year-round. That's why we're asking for your help.
I'm excited to announce that today, we're launching a new recurring donor program called STARTStrong. With STARTStrong, you can make a monthly donation to help us continue providing our services for free. Your donation will make a real difference in the life of a high school student.
You can also donate one-time here or through your employer's Deed or Benevity.
Thank you for your support. Together, we can make a difference in the world.
We have much more planned for the year; continue reading to learn more about what we're planning for the remainder of the year!
---
The past year
Tiffany, Lilian, and I started OperationSTART in 2020 as high school juniors. This past year, we graduated high school and just finished our first year of college! 🥳Exciting, right? Despite our journeys into our first year of college, we haven't stopped the vital work we're doing at OperationSTART. We continue to volunteer our time to curate new opportunities, build new partnerships, and build the platform.
In June, we were finally reunited in our new office with our fiscal sponsor, the San Francisco Education Fund, after a year!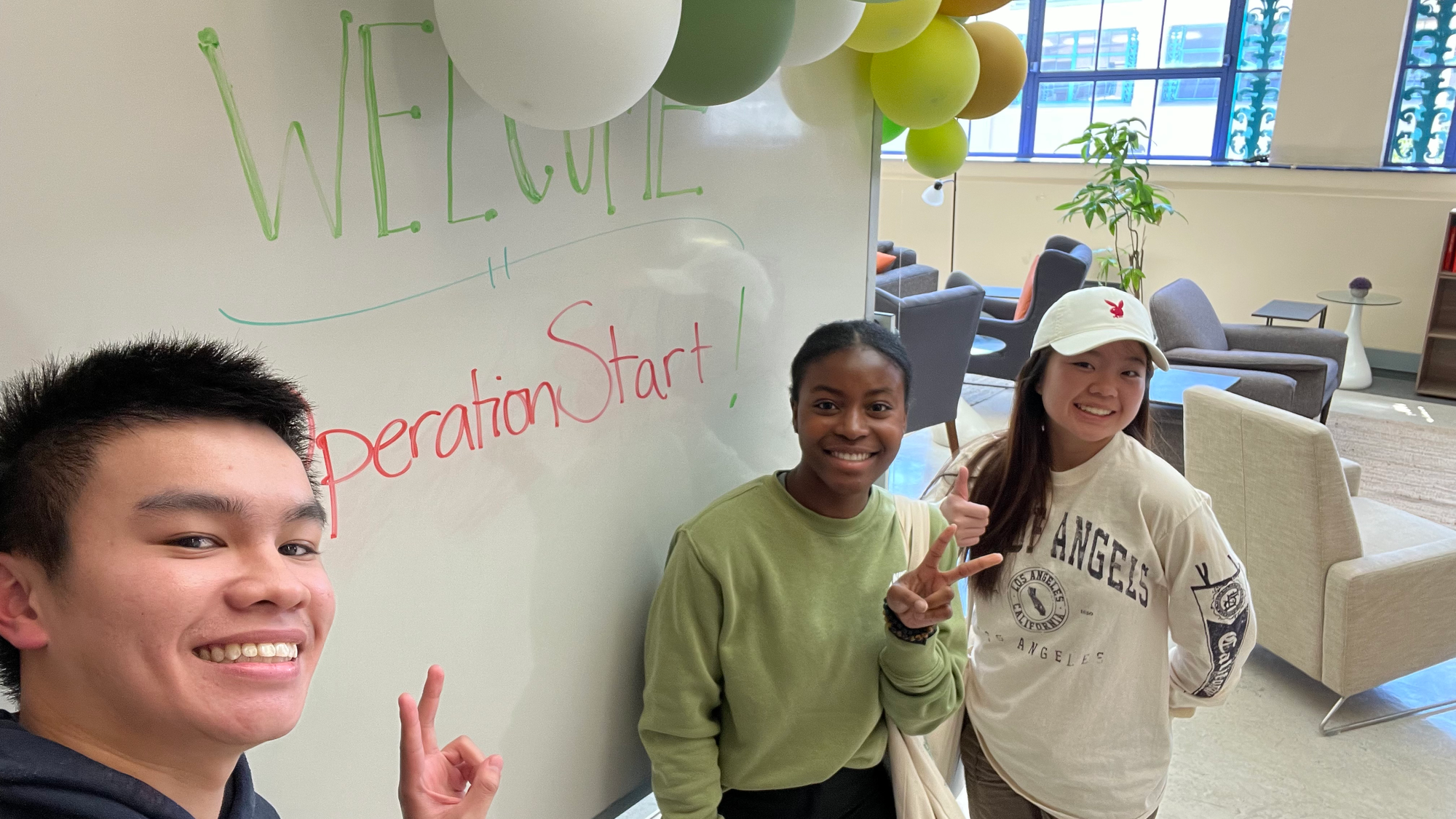 Upcoming platform roadmap
We're looking to take OperationSTART's platform to the next level. Check out some of the things we're working on.
For students
Application tracker We know that when applying to enrichment opportunities, tracking applications can be difficult, so we are creating an application tracker where you can track the status of your application, add notes, and more!
For nonprofits
Invite your staff Since we launched our organization admin panel last year, only one person has been able to access it without reaching out to our team to add a member of your staff. We're working on an invite system where you can invite your team to join you in adding new enrichment opportunities to the platform!
If you want to share your feedback or have any ideas on what we can add to the platform next, check out our ideaboard!
Giving thanks
Firstly, thank you to our donors who supported us when we transitioned fiscal sponsors earlier this year!
Secondly, OperationSTART has volunteers behind the scenes who are helping to advise Tiffany, Lilian, and me. I want to take a moment to shout out everyone behind the scenes helping us!
Christina has been a champion of OperationSTART's work since our inception and continues to support OperationSTART by advising me and the leadership team at OperationSTART.
Taylor, Andy P. has been instrumental in helping OperationSTART with marketing. They are behind the scenes working on strategy and our blog, and more recently, Joseph and Andy L. joined the volunteer team to help with our social media and content writing.
Lastly, thank you to the San Francisco Education Fund team for helping us with all the behind-the-scenes administrative operations! 🙌
---
Thank you for continuing to support the work we're doing!
In community,
Johnny Lin
Co-Founder and Executive Director
OperationSTART