Happy Birthday to OperationSTART!
We're extraordinarily happy to celebrate OperationSTART's first birthday! This is huge because we've accomplished so much as an organization! Celebrate with us!

Today is a big day for us at OperationSTART. It's our one-year anniversary! I'm sure you've read our founding story, but today marks the one-year anniversary of when we built the concept of OperationSTART, and our team of Co-Founders came together to talk about it. Our founding date is July 18th, 2020.
We started as a ghost startup, so we weren't thinking about public presence at all. We instead focused on building the backbone and resilience of the organization. We want to take you through what we've done over the past year and how we envision the future to look like.
Let's get into it; what did our team originally look like?
Our team originally consisted of our three founders displayed below. We quickly realized that we each had our strengths, so we decided to build roles and responsibilities for each position.
The priorities we had set:
Our platform
Financial support
Hire a team
Establish an organizational structure
We knew that the platform that OperationSTART would offer for the public was crucial to the success and effectiveness of the organization. We were given two technical options: we could code it with the help of industry professionals or go the no-code way and use Bubble, a powerful no-code software. We decided to go with Bubble because it would take significantly less time than if we went the coding route. We also went this route because Johnny is very proficient with Bubble.
We also quickly realized that to start the platform, we'd need a source of financial support. This led us to look into grants. Johnny was working with the Youth Empowerment Fund at the time for a Mission Bit youth-led tech conference, so we decided to apply for their $10,000 grant for the upcoming school year. We worked on the grant application for months, encountered some pushback, didn't give up, and were eventually granted $10,000 for this organization in January 2021.
After being granted $10,000, we knew that we'd need help, so we started to develop a hiring plan to look for the best candidates possible for an administrative and data entry position. This process took months, but we found two perfect candidates who were later onboarded to the team.
An organizational structure was developed so that everyone on the team had someone to report to, and each team would be responsible for a crucial part of the organization. We split these teams into a sourcing team, outreach team, and social media team. The sourcing team would be responsible for sourcing out organizations offering opportunities. The outreach team would be responsible for outreaching to our prospective users, and the social media team would be responsible for developing and progressing our social media channels.
Let's talk about the team we have today
Today, we are a team of seven. Johnny, Tiffany, Lilian, Teresa, Monica, Ivy, and Dahlia.
Johnny has been focused on the development of our platform and grant paperwork. Tiffany and Monica have been focused on sourcing out organizations that offer different types of opportunities. Lilian and Teresa have been working on outreach efforts to reach out to school staff within San Francisco middle and high schools. Ivy and Dahlia have been working on progressing our social media channels (i.e., Instagram, Facebook, Twitter, and TikTok).
Our platform: The ideal functionality
The platform we had envisioned to build was no easy thing to make. Even with the power that Bubble gives us, it takes a while to conceptualize, come up with a design, and build it. We're still in the process of creating the site but have had a few breakthroughs so far. Since this is our one-year anniversary, we decided to show you what we've been working on behind the scenes.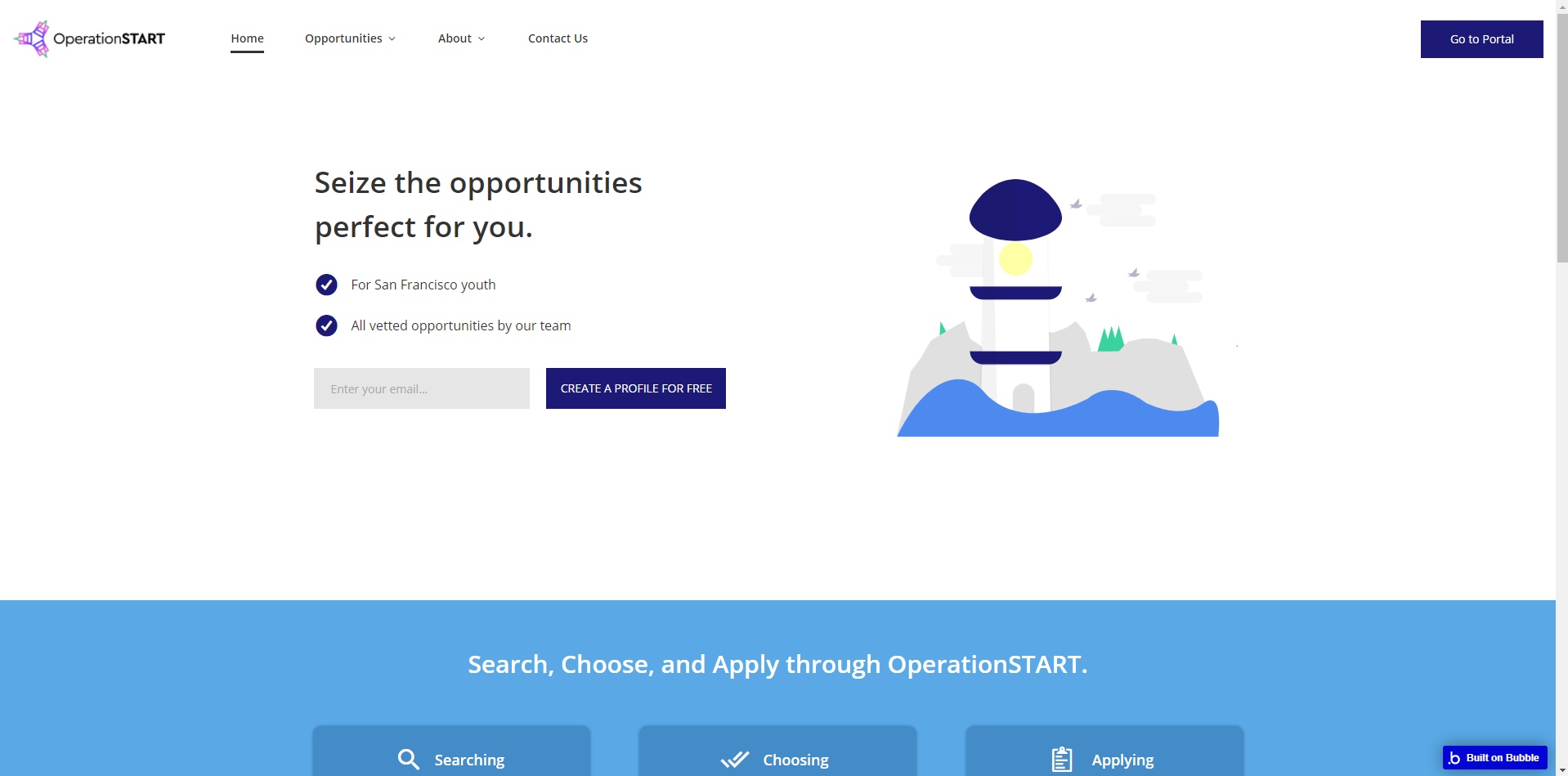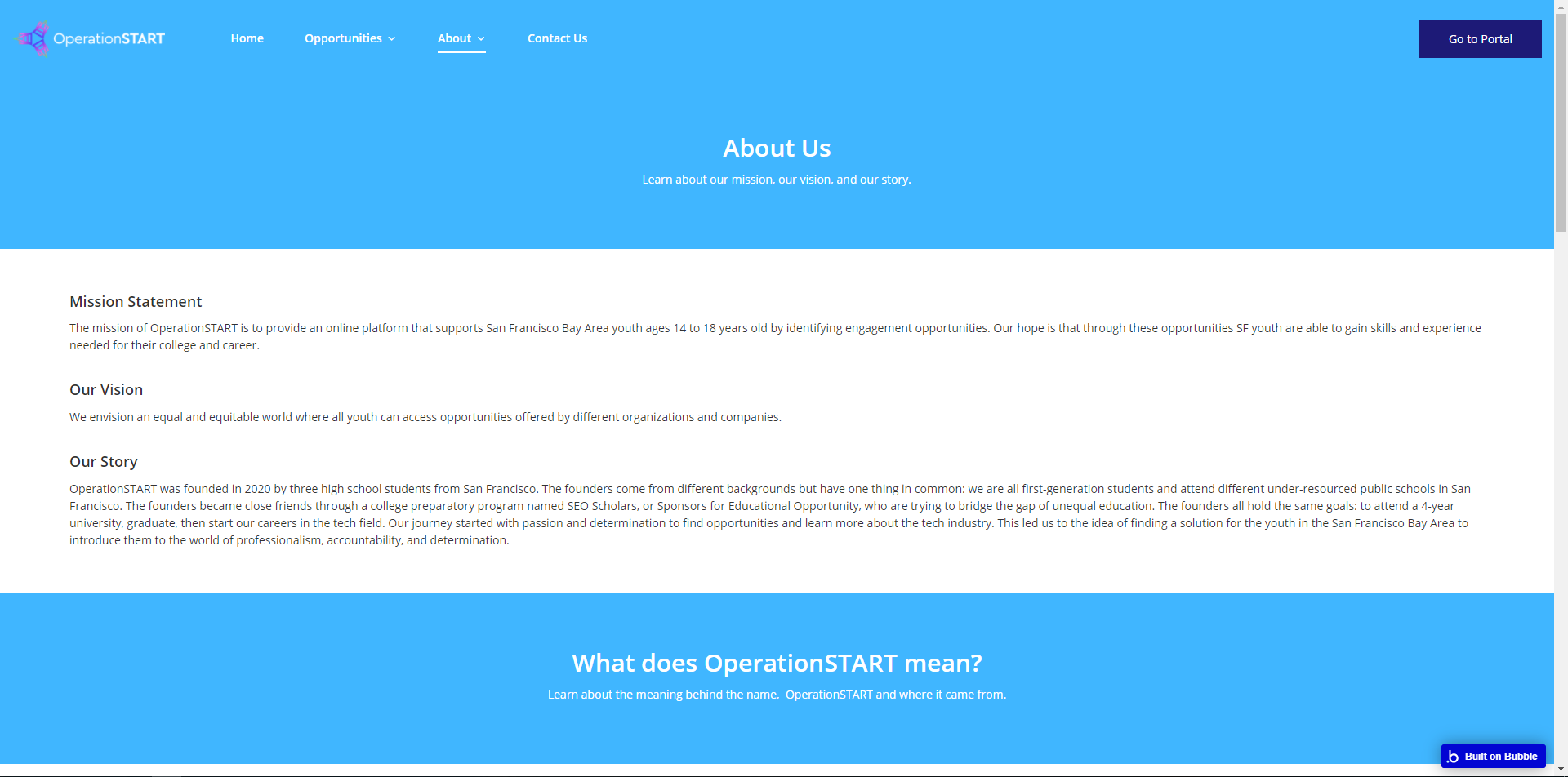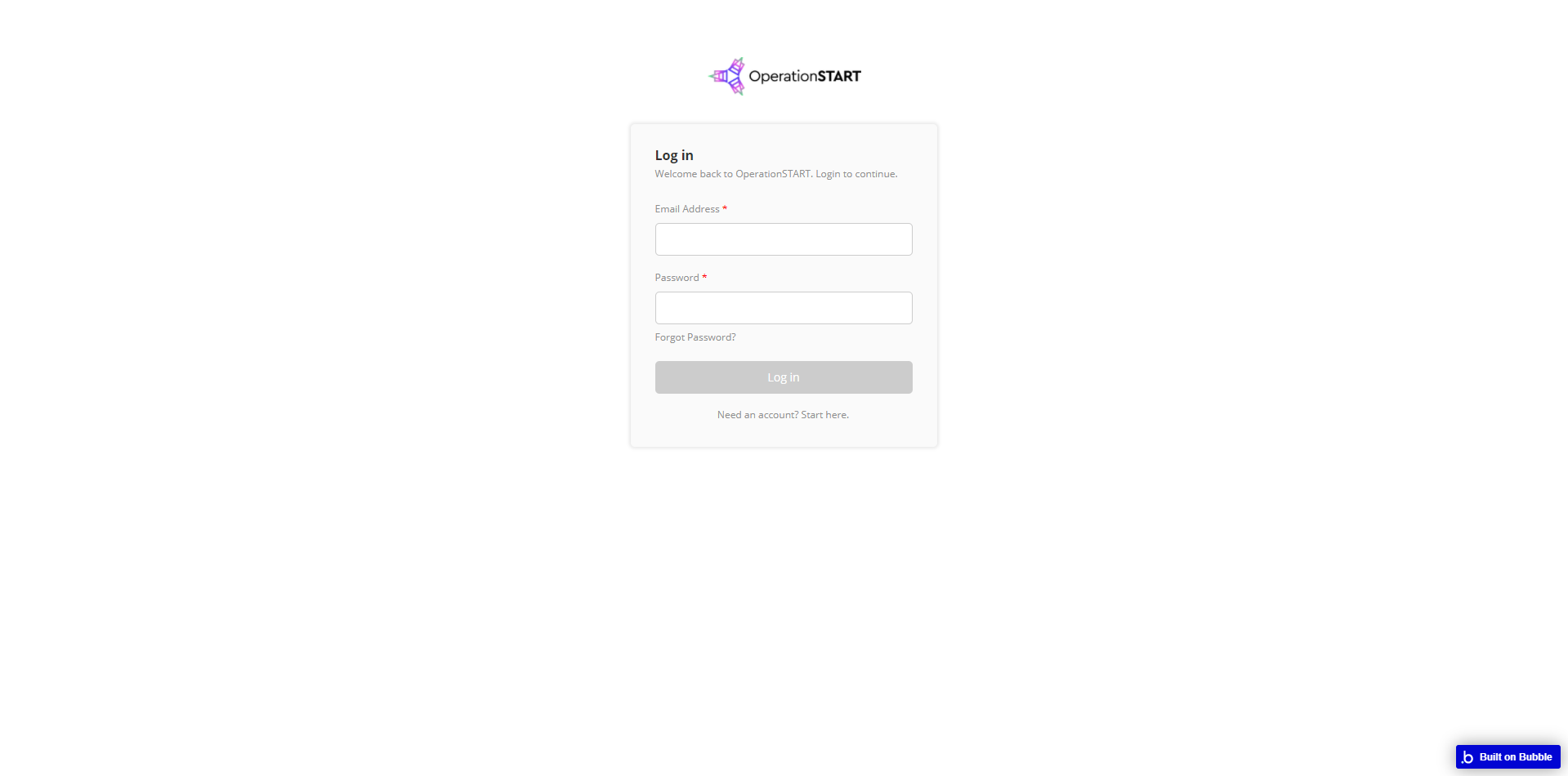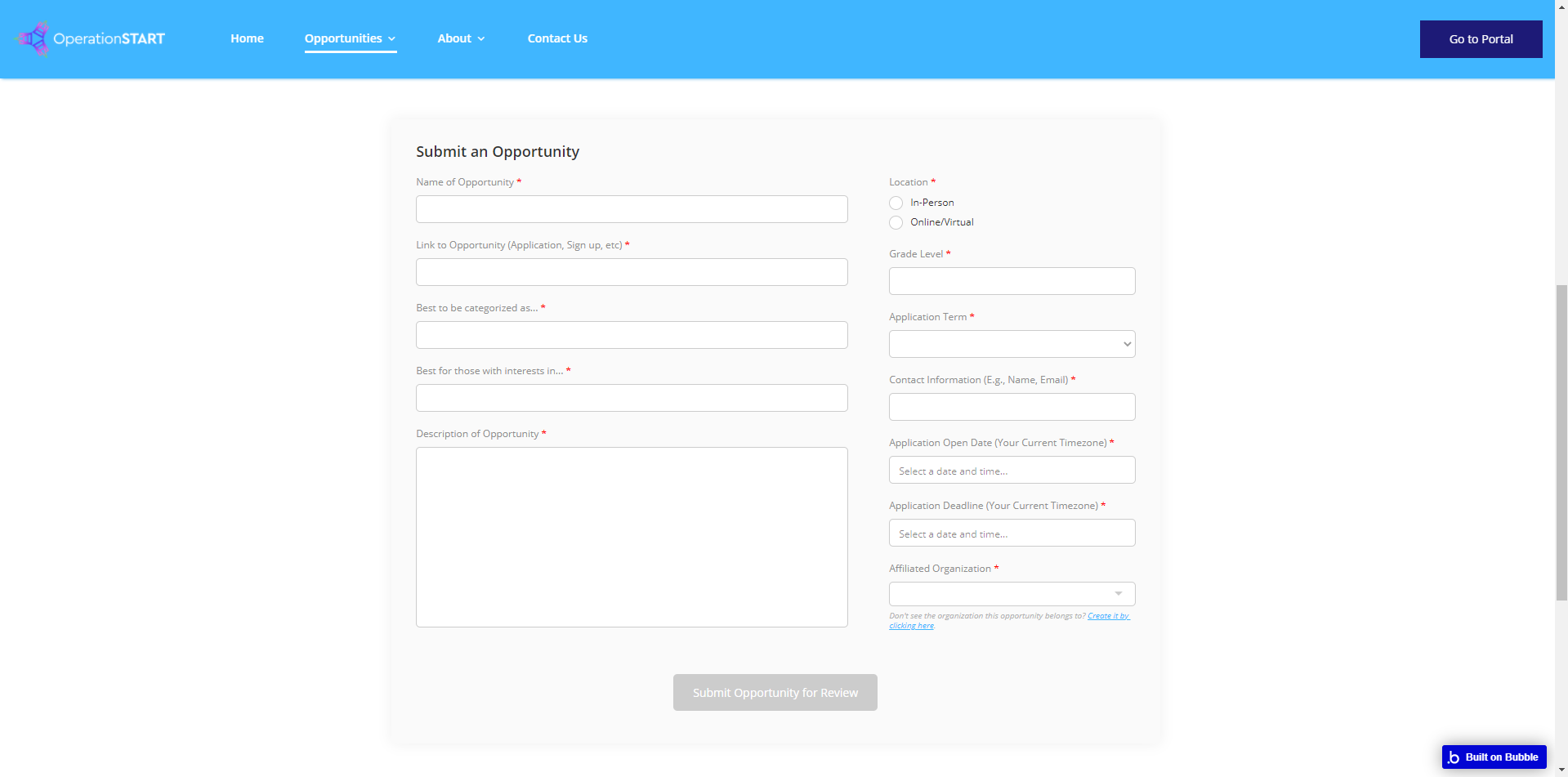 These are the few screenshots we're sharing with you today, but keep an eye on our progress on our development roadmap!
---
Today is just the beginning of what we have planned for the future. I encourage you to follow us on Instagram, Facebook, Twitter, and TikTok, where you can find up-to-date content about our journey. We also publish monthly newsletters that you can sign up for at operationstart.org.
There are many plans on the horizon, and we're glad you're on this journey with us. 🖤