Planning Deadlines + Scholarships!
The college application can seem overwhelming with so many dates being spread around! Below are some tips and information to help you stay on track and some of the national scholarships to help you pay for college!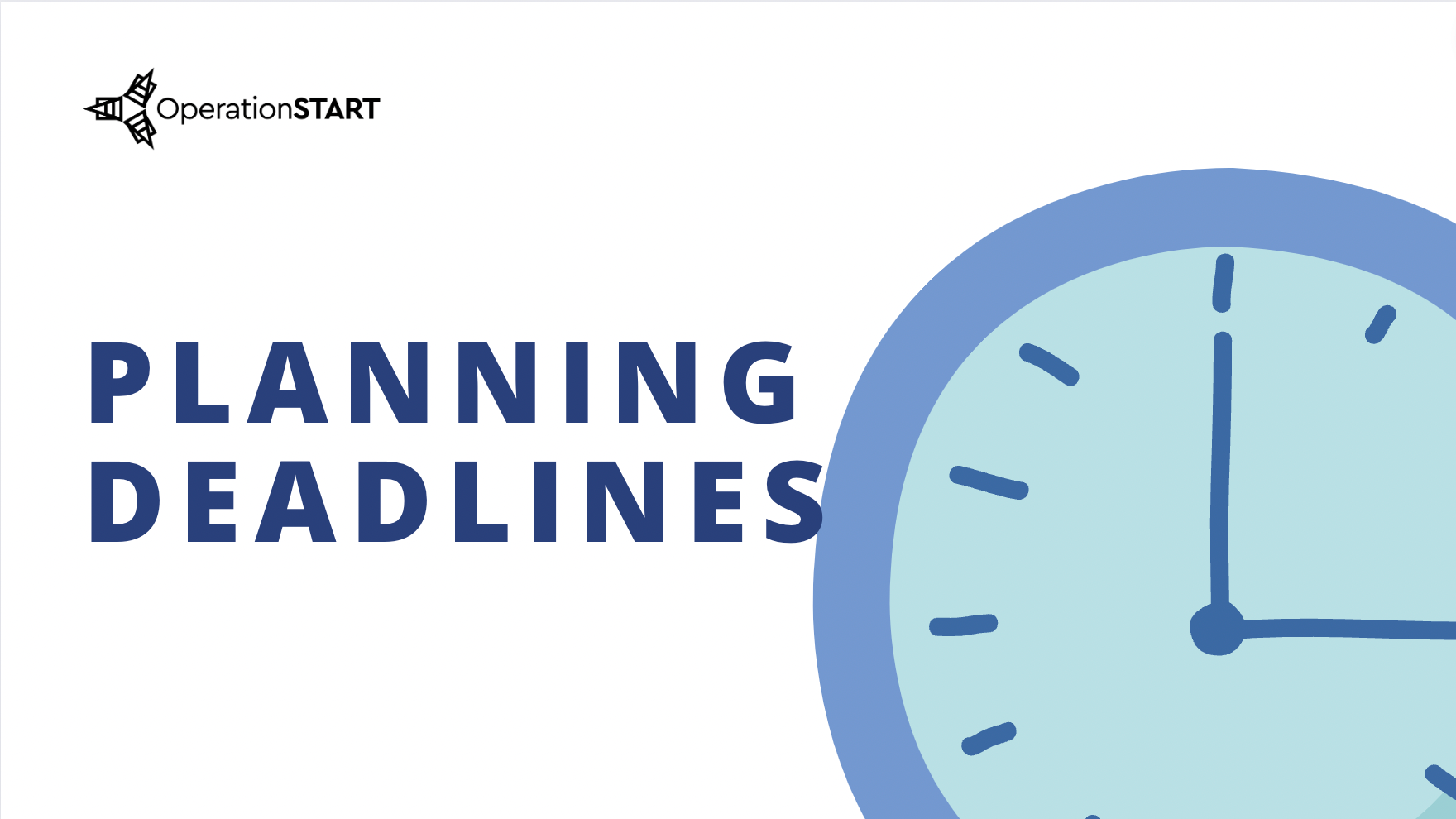 To help keep yourself organized, we recommend you write down all your deadlines, big or small, for both college applications and scholarships, on one spot that you'll be able to see often. This way, you won't be surprised when you get any email that tells you "THE DEADLINE IS TODAY" (I'm not joking, they will send it in all caps, some more aggressive than others). Some great places to write out deadlines are your phone's calendar app, google calendar, personal planners, or the calendar you have hanging in your room! Knowing these deadlines, make sure to also have a rough plan of when you'll have what part done so you can turn in your application a bit earlier. Some websites are not as developed and easily crash when too many people are trying to submit an application. Below are some significant deadlines within the college application process:

August 1st: Common Applications, UC Application, CSU Application Opens
October 1st: CSS & FAFSA application opens
November 1st - December 15th: Early Decision/ Early Action due
November 30th: UC and CSU Applications due
December 31st - January 15th: Regular Decision due


Have you started looking at deadlines for every part of your college application process? It would suck if you missed the deadline by a day and won't get a chance to apply to your dream school. This is a reminder to check your deadlines for applying to colleges, which can also help you plan what steps should be completed by when. You may see some unfamiliar terms when checking deadlines; here, we will explain the three most common ones: Early Decision, Early Action, and Regular Decision.

Early Decision (ED)
Early Decisions are common in many private schools; when applying, you also sign a binding contract stating that if you get into the school, you must go to the school. Since you will be the first round of applicants to review, the admissions rate within the early decision pool is usually higher, and more financial aid and scholarships will be available. Many people apply for early decision to their dream school for the benefits. Some schools have different rules for their early decision applicants; check the school's website or contact an admissions officer to understand the rules before you apply early. Deadlines for Early Decision applications depend on the school but generally fall between the dates of November 1st to December 15th. You may get your results between late December to early February. Beware: Some schools may also have two rounds of early decision, and you can only apply to 1 school within the Early Decision process. Your deadline to accept and decline the school's offer will also be earlier.

Early Action (EA)

Early Action is similar to early decisions, but it's non-binding; you just get your admissions results earlier than others. Most times, early action deadlines are the same as early decisions. The benefits of early decisions transfer over but are not as great since you won't be binded to the school. Not many schools have this application option, but those are primarily private schools. The deadline to accept or decline your offer will be the same as Regular Decision (May 1st).

Regular Decision (RD)
Regardless of Early Decision and Early Action, almost every school will have a regular decision deadline that falls around the last few days of December to the first few days of January. Regular decision decisions will come out around mid march to late April, with a choice needing to be made by May 1st. The most significant benefit of applying for regular decisions is you can collect many acceptances, and financial aid offers to compare and see where would be the best fit for you. Many can still get great financial aid offers from regular decisions as well!

California Public Universities
The only deadline for both UC and CSU applications is November 30th, but we suggest you submit your application at least a few days before the deadline. Every year the UC Application page crashes due to everyone trying to turn in their application, which causes much extra stress. Although the UC application deadline is the same, results vary depending on the school, with UC Berkeley coming out last most years.

Scholarships!

Now is the prime time to apply for many full-ride scholarships in America! Most of their applications open on August 1st, along with UC, CSU, and Common Application (CommonApp). Below are some that you may want to consider:
QuestBridge: Due Sept 27th
Offers full-ride scholarships to their partnered schools around the country! A great way to apply Early Decision to multiple schools at once. Applications are very long, so we suggest you to start early!
Coca-Cola Scholarship: Due October 31st
The first round is a short online form like the Gates Scholarship. As a Coke Scholar, you'll have the chance to network with like-minded, hardworking students and earn a 20,000 scholarship!
Jack Kent Cooke Scholarship: Due November 17th
As a Jack Kent Cooke scholar, you get personalized help in college towards choosing classes and careers while earning up to $55,000 a year! Apply through the common application.
Ronald Reagan Scholarship: Due TBD
Earn up to 10,000 per year towards higher education! The scholarship can be used for all education-related expenses!
5. Raise Me!
Not many know about micro-scholarships, but they can add up! Raise Me is a platform that helps you automatically apply for school-specific micro-scholarships when you enter your academic records and extracurricular activities on their website. The deadlines are school specific, and it will only take an hour or two to earn up to a few thousand dollars!

Are you looking for more scholarships? OperationSTART updates monthly on more local scholarships, which you'll have a greater chance at since the application pools are smaller. We also have many opportunities to help build your activities section in college applications. Sign up today to subscribe to our monthly newsletter, where we handpick opportunities for you too!

That's it; as parts of OperationSTART are now moving to college, we wish all seniors the best of luck! We'll check in on you soon!